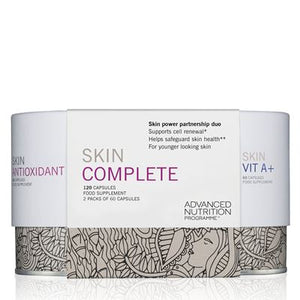 IIAA
Skin Complete
Regular price
£49.00
£0.00
Unit price
per
Tax included.
Shipping
calculated at checkout.
Take one of each supplement daily
120 capsules - 2 months supply
Skin Complete is a duo containing two supplements - Skin Vit A+ and Skin Antioxidant and is the first step in any good skincare routine. Crammed with a multitude of nutrients including vitamins A and D and antioxidant botanicals† which help to safeguard the skin for a healthy looking complexion.
Benefits:
- Complements all the good work your topical creams are doing on the outside
- Helps with skin cell renewal and normal skin health~
- Formulated with a brigade of antioxidant botanicals, including bilberry and turmeric plus green tea and grape seed extracts† to safeguard skin.
- Contains vitamin D which plays an important role in bone health, muscle health and the immune system**
~Vitamin A contributes to the maintenance of normal skin. Vitamin A has a role in the process of cell specialization
**Vitamin D contributes to the maintenance of normal bones. Vitamin D contributes to the maintenance of normal muscle function.Vitamin D contributes to the normal function of the immune system
Imagine if you could be satisfied and content with your purchase. That can very much be your reality with the Skin Complete.

Inventory Last Updated: Dec 08, 2023